The Hollywood Reporter 2014.6.20
China's Light Chaser Animation Studios has closed a $20 million round of Series B funding, led by GGV Capital and Chengwei Capital.
Light Chaser was launched in March 2013 by Gary Wang, founder of Tudou.com, which was bought by rival Internet video company Youku.com in a $1 billion stock deal in 2012. Wang has said his ambition for the company is for it to be China's answer to Pixar — a boutique studio "creating world-class animated films with a Chinese cultural touch."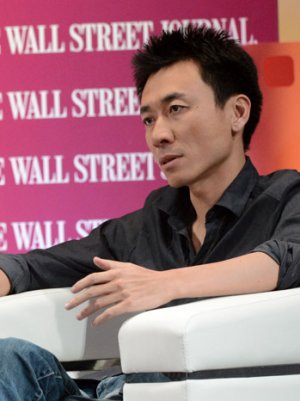 Light Chaser Animation Studios founder Gary Wang
 Light Chaser has spent the last 15 months accumulating technology and talent. It says production of its first 3D animated feature, Little Door Spirits, will be completed by July 2015. It has a budget of $12 million.
For years, Chinese animation struggled from a lack of investment and missing creative juices, completely outplayed by SpongeBob SquarePants and the Japanese anime classics, but now the sector is undergoing a revival, with domestic animated features scoring high in the box office and a slate of high-quality projects in the pipeline.
Recent months have seen China launch a major initiative to boost toons, and the world's second-biggest film market is poised for a boom period centered on major projects, such as the $40-million animated 3D project, Kong, co-produced by Gary Zhang and Korean filmmaker JJ Kim.
At the Cannes Film Festival's market last month, the State Administration of Press, Publication, Radio, Film and Television (SAPPRFT) had a designated China animation booth. Recent animation hits include the Pleasant Goat franchise and Boonie Bears: To the Rescue, a feature version of a hit show on the state broadcaster CCTV that took $5.2 million on its opening day alone.
"The movie market in China is booming, and certainly there is a very significant growth space for Chinese animated feature films," said Jixun Foo, managing partner at GGV Capital, in a statement. "We are impressed by the vision and execution capability of Light Chaser. Within a very short period of time, they have built up an excellent team and a world-class animation production pipeline. It's very exciting that Light Chaser's animation and CG capabilities are already at a level close to Hollywood."
GGV is a venture capital firm based in Menlo Park, California and Shanghai, focused on expansion stage investments in the U.S. and Asia. The company was an early backer of Chinese e-commerce giant Alibaba and has raised $2.2 billion of investor commitments across five funds to date.